SC Technology & Aviation Center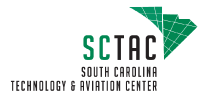 The SC Technology and Aviation Center (SCTAC) is a 2600-acre business park located in Greenville, South Carolina and is home to more than 110 companies, including Michelin, Solvay Carbon Fibers, 3M, Pharmaceutical Associates and Ethox Chemicals. Donaldson Field at SCTAC, the state's largest General Aviation Airport, is the Global Home of Lockheed Martin's F-16 production and sustainment operations. The International Transportation Innovation Center (ITIC), South Carolina's world-class EV/AV test track, features fast-charging stations, a brake lane, 10 and 20 degree slope hills, a durability track and a one-mile straightaway.
Construction is underway on a 3-mile loop that will allow continuous highway speed testing. With convenient access to air, interstate, rails, and ports, SCTAC has established an international reputation as a dynamic economic hub for global aerospace, automotive, and advanced manufacturers and suppliers seeking to operate in South Carolina. To learn more about SCTAC and its available properties, please visit www.sc-tac.com.
Contact:
Jody Bryson
President & CEO
ONE North Main Street, Suite 201
Greenville, SC 29601
Phone: (864) 277-3152
Fax: (864) 277-6766
Email: jody.bryson@sc-tac.com
Website: sc-tac.com