Counting Big Buffalo in the Upstate
January 16, 2018
BMW, ZF make Southern Business & Development "Big Buffalo" List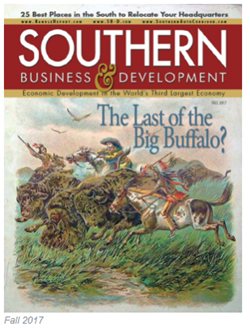 Last week, speculation about a $1.6 billion
Toyota-Mazda automotive project with 4,000 jobs was brought to an end with the announcement that the project is headed for Huntsville, Alabama
.   
Randle's exploration echoes many of the data points that our Research Team has been tracking, too: the idea that smaller, more cautious approaches are on the rise among businesses, especially as the labor market has tightened across the country. 
 
Many public officials still hope for large investment and job creation numbers to sweep their communities, but our Business Recruitment Team is increasingly hearing from small businesses looking to mitigate risk. 
 
Even ask the market shifts, however, counting these "big buffaloes" remains a point of pride for us. 
 
In addition to exploring on market shifts, the publication offers the
"Big Buffalo Manufacturing Sector Awards,"
a reflection on 25 announcements in the last 25 years that had a significant transformative effect on their communities.   
The "Big Buffalo Manufacturing Sector Awards" includes five Palmetto State projects, and two from the Upstate: 
BMW in Spartanburg County, announced in 1992 
Honda in Timmonsville, 1997 
Bridgestone in Aiken, 1998
Boeing in Charleston, 2010
ZF Transmissions in Laurens County, 2010 

"Simply put, automotive plants are the Big Kahuna in economic development. No projects have the economic effect that an automotive plant has on a state, multi-county region or city," Randle writes. 
 
In all of the excitement over an OEM, we can sometimes lose sight of the benefits an automotive supplier can reap. The list's inclusion of ZF Transmissions in Gray Court is a great reminder. 
 
The producer of eight- and nine-speed automotive transmissions for passenger cars has invested more than $600 million at the facility in Gray Court, with approximately 2,600 employees and $138 million in 2016 payroll, according to the publication.  
 
SB&D asserts that we should value and foster the "big buffaloes" in our midst, while also embracing the smaller gazelles looking for homes. 
 
AWL-Techniek in Spartanburg, SMT Group at CU-ICAR, and the Oconee Economic Alliance's recently announced vermon NDT at the Oconee Business Center in Walhalla are all examples of the "future" of economic development. 
 
While many talk about the "future" as if it's long off, we know the future is now. 
TOPICS: Existing Industry, Business Recruitment, Rankings & Recognitions